Issac Hayes Harlem Experience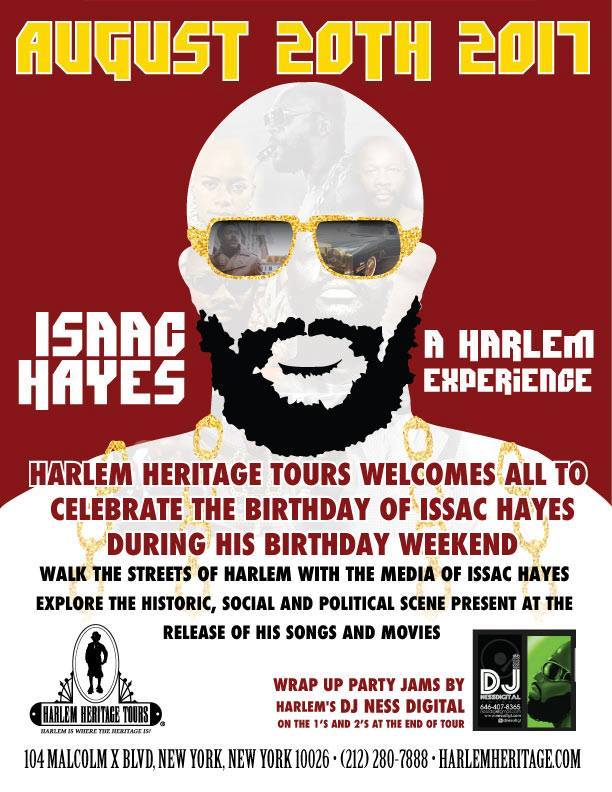 Duration: 180 Minutes (approx.)
Location: New York City, N.Y.
Harlem Heritage Tours welcomes all to celebrate Isaac Hayes birthday during his Birthday weekend.
Isaac Hayes was from the hills of Tennessee but his soul creativity in song and movies spawned from urban America and had a tremendous impact on inner cities such as Harlem. We will walk the streets of Harlem presenting Isaac Hayes produced media, while exploring historic, social and political scene present at release of song or movie.
Media by Isaac Hayes contemporaries will be presented as well. Walk centered primarily around 3 Isaac Hayes albums Hot Buttered Soul, Black Moses and Shaft and the original version of Shaft the movie with scenes filmed in Harlem, plus many other black exploitation films along the way. We will explore the impact Isaac had on Harlem and Hollywood.
We will end with a Isaac Hayes music showcase/ tribute hosted by Harlem' DJ Ness at the Harlem Heritage Tourism.
Meet: Harlem Heritage Tourism and Cultural Center - 104 Malcolm X Blvd aka Lenox ave. between 115th - 116th streets. #2 and #3 trains arrive directly to meeting location, entrance to meeting locations, a few yards from subway exit.
Time: 4:30 PM
Price: 25.00
Ends with Issac Hayes inspired rap up jam with Harlem's DJ NESS DIGITAL.
For more info. call 212 280-7888