Dr. King "Oslo to Harlem"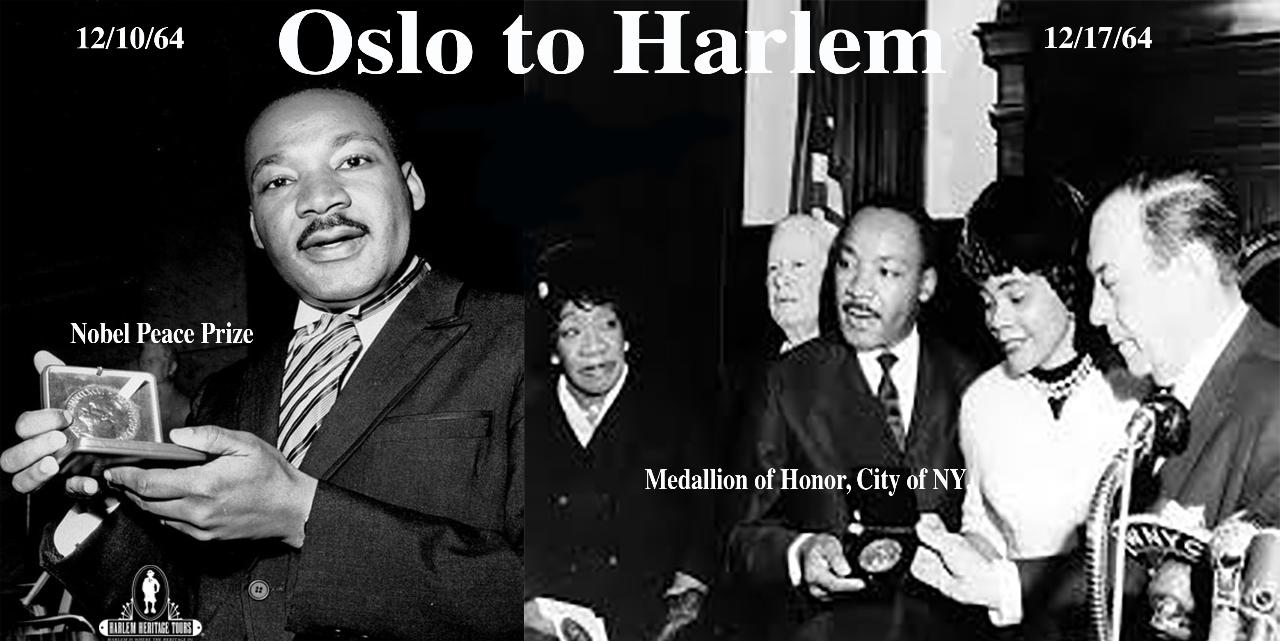 Duration: 60 Minutes (approx.)
Location: New York City, N.Y.
Dr. Martin Luther King Jr., 1964 recipient of the prestigious Nobel Peace Prize, for his tireless work as a promotor of peace and architect of the civil rights movement. Dec. 10th. '64, Dr. King accepts coveted award during ceremony in auditorium of Oslo University, Dr. King, delivered speech reflecting racism and poverty afflicting his people in America,
One week later Dec. 17th, Dr. King visits Harlem for cultural gathering in his honor, featuring speeches and acknowledgments by notables of Harlem/New York City, interspersed with cultural performances. Event ended with speech by Dr. King speaking of his appreciation of Harlem culture and the communities support of the civil rights movement.
Dr. King: "Oslo to Harlem"
Date: Saturday Jan. 19th, 2019.
Time: 2:00 PM - 4PM
Dr. King Nobel Peace Prize speech 12/10/64 Norway.
Excerpts from Dr. Harlem community salute featuring Harlem/New York notables, via this content, one can hear Dr. Kings impact on Harlem 12/17/64.
Speech by Dr. King himself at community salute in his honor, amazing to hear Dr. King mention his love of Harlem and his visit a week prior to Norway to receive Nobel Peace Prize.
Harlem Heritage Tourism and Cultural Center. 104 Malcolm X Boulevard, between 115th - 116th streets. #2 and #3 trains arrive directly to meeting location.
For more info. feel free to call us at 212 280-7888.