harlem...is HEALING Multi-Media Walking Tour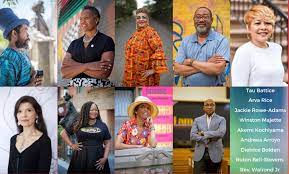 Duration: 120 Minutes (approx.)
Location: New York City, N.Y.
We all remember the fear, uncertainty, stress and anxiety of the pandemic when the internet was the only way to communicate and escape the trappings of "give me six feet",when Harlem searched the internet for messages of faith and HEALING. During this time Community Works and New Heritage Theater Group galvanized 50 culture makers / community leaders creating interviews that provided messages of hope and HEALING. Nine of the 50 are featured in harlem...is HEALING public art exhibition.
Harlem Heritage Tours in association with Community Works and New Heritage Theater Group present harlem...is HEALING Multi-Media Walking Tour. Walking through Harlem exploring the personal and professional connections that Honorees have with Harlem, against the backdrop of Harlem 20th century history (1900- present). Starting with the story of the Urban League 1919 to that of Dietrice Bolden and the advent of Impact Repertory Theater in 1997. The collection of Honorees is quite diverse with terrific stories that mesh beautifully with over all Harlem history, just what's need for a fantastic walking tour, book via link below.
The honorees include:
Arva Rice, President and CEO of the NY Urban League
Jackie Rowe-Adams, co-founder of Harlem Mothers S.A.V.E
Akemi Kochiyama, writer, activist
Andrea Arroyo, artist, activist
Robin Bell-Stevens,Director and Executive Producer of Jazzmobile
Dietrice Bolden, Managing Director of lMPACT Repertory Theatre
Rev. Michael A. Walrond Jr., Senior Pastor of First Corinthian Baptist Church
Tau Battice, Harlem photographer
Winston Majette, Executive Director, the Greater Harlem Chamber of Commerce.
Starts at Harlem Heritage Tours with intro and brief vid. presentation about "harlem...is", Community Works and New Heritage Theater Group.
Stops included on tour but not limited too

Masjid Malcolm Shabazz
Canaan Baptist Church
First Corinthian Baptist Church
Hermena Rowe Place
Theresa Hotel
Original location / office of JAZZMOBILE.
Impact Repertoire Theater / New Heritage Theater
Original office of New York Urban League 1919
Christian Parish for Community Renewal
Schomburg Center for Research in Black Culture
Office of Greater Harlem Chamber of Commerce GHCC
Plus more.....
Date: September 18th, 2022
Time: 1:00 PM - 3:00 PM - covers about 1 mile of low impact walking.
Meet: Harlem Heritage Tourism and Cultural Center. 104 Malcolm X Boulevard between 115th - 116th Street. #2 and #3 trains arrive directly on the IRT line (red on subway map).
Price: $30.00 per person, special rates for Harlem school kids.
Included: Bottle of water and light refreshments at beginning of tour.
Storage space for luggage and such in our cultural center while you are on tour.
For additional information feel free to contact us at 212 280-7888 or email at misterharlem@harlemheritage.com